Band – A ring of coloured paper around the foot of the cigar which usually denotes the brand name.

Belicosos – A pyramid shaped cigar normally with a ring gauge of about 48

Binder – This holds the main body (bunch) of the cigar together

Blend – A combination of different tobaccos to give the cigar its distinctive flavour

Bloom – A white powdery substances that is exuded by the tobacco. It is quite harmless and is not
damaging to the cigar and can easily be wiped off with a soft brush

Blue Mold – If this bluish fungus is evident on your cigars then they can be deemed as ruined and
should be dispatched to the bin

Bunch – The filler

Bundle – Some cigars, often the more economically priced, are packed into bundles of 25 and then
sealed with cellophane.

Cabinet – Bundles of cigars tied with a ribbon and packed into boxes, often unbanded.

Cap – This sealed end of the cigar

Capa – The wrapper

Chaveta – The crescent shaped knife used by the cigar roller

Cigarillos – Generally machine made, less than 26 Ring Gauge and shorter than 100mm

Claro – The lightest colour wrapper

Corona – a cigar size of 142mm 42 Gauge

Culebra – Three narrow ring gauge cigars woven into a rope-like braid

Double Corona – A cigar size of approximately 190mm 50 Gauge

EMS – English Market Selection. Hunters and Frankau created the EMS stamp in 1993. This is displayed on all their boxes of Havana cigars to prove, authenticity, quality and year of manufacture - indicated by the colour.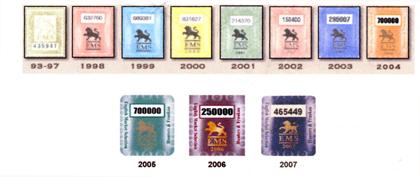 Fermentation – A process where the tobacco leaves are subjected to high temperatures in order to
release the ammonia content.

Figurado – Torpedo shaped cigars

Filler – The main body of the cigar

Foot – The end of the cigar which you light

Gorda – A cigar size of approximately 142mm 46 Gauge

Hand – Individual bundles of leaves, tied together and hung up after harvesting prior to the
fermentation process

Hecho en Cuba – Made in Cuba

Long Filler – Used in hand-made cigars and is comprised of leaves that run the complete length of the
Cigar

Lonsdale – a cigar approximately 155mm 42 Gauge

Machine Made Cigars – Cigars made entirely by machine using chopped pieces of leaf.

Maduro – From the Spanish meaning 'ripe' – the maduro leaf comes from tobacco plants that have
been subjected to direct sunlight and/or by extending the fermentation period.

Panatela – a thin cigar typically 120mm 36 Gauge

Perfecto – A bulbous shaped cigar that is closed at both ends

Plug – A blockage within a cigar that prevents a proper draw.

Pyramid – A cigar that is tapered towards the head

Ring Gauge – The diameter of a cigar measured in 1/64th of a inch – eg a cigar with a ring gauge of 50 is 50/64th inch thick.

Robusto – a cigar approximately 125mm 50 Gauge

Seco – a type of filler

Shade Grown – These a tobacco plants grown to provide a wrapper that is pale and whose veins are very thin.

Spill – a strip of cedar wood that is lit by another source e.g. a candle, and used to light a cigar

Sun grown – Tobacco plants grown in direct sunlight to provide thicker and darker leaves

Torcedor(a) – a cigar roller

Toro – a cigar approximately 150mm 50 Gauge

Torpedo – a bulbous shaped cigar with a pointed head

Tubos – Tubed cigars

Wrapper – the leave that is used to encapsulate the body of the cigar
---